2023 YEAR END SHOW * 20th Anniversary Gala!
Sunday, June 11, 2023
Showtime: 1:00pm
Banquet: 5:00pm Cash Bar * 6:00pm Dinner
Every year, our Recreational and Competitive dancers perform in our year end show called LIVE!
Our shows take place at the end of the season (June) and is professionally produced with special lighting, effects, an emcee and an audience full of family, relatives and friends!
This is one of the highlights of our season and an awesome way to finish out the dance year!
For our 20th Anniversary Show, we are excited to welcome back our SDA ALUMNI, as well as our Marquette, Michigan studio dancers!
WHERE
Show takes place at:
GFL MEMORIAL GARDENS
269 Queen Street East, Sault Ste. Marie, ON P6A 1Y9
Website: http://gflgardens.ca/
SHOW TICKETS
Where To Purchase Tickets
Tickets can be purchased at GFL MEMORIAL GARDENS BOX OFFICE
269 Queen Street East, Sault Ste. Marie, ON P6A 1Y9
Telephone: 705-759-5251
Also, available online Buy Tickets
Box Office Hours & Location
Located at Gate A of the GFL Memorial Gardens on the Northwest Concourse Level.
Monday-Friday  10:00am-5:00pm
Saturday  10:00am-2:00pm
Ticket Prices
The Box Office accepts cash, Debit, Visa, MasterCard, American Express, Discover.
$30 + hst (plus facility fee, box office fees, etc.)
Tickets are reserved seating. First come, first serve at the box office.
Ticket Sale Dates
April 1-8, 2023 - Pre-sales for SDA FAMILIES ONLY (CLOSED Good Friday, April 7 ad CLOSED Easter Monday, April 10)
April 11, 2023 - Sales to GENERAL PUBLIC start.
Also closed Good Friday & Easter Monday
For anyone that may require an accessible seat please call the box office at 705-759-5251 extension 2.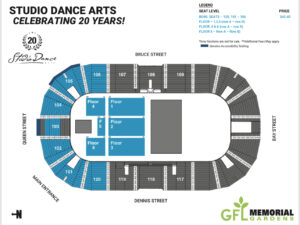 IMPORTANT DATES (REHEARSALS & SHOWS)
Tuesday-Friday, June 6-9, 2023 - In studio rehearsal week
Saturday, June 10, 2023 - Dress rehearsal day (all Recreational & Competitive) * at GFL Memorial Gardens
Sunday, June 11, 2023 - SHOW DAY (all Recreational & Competitive) & BANQUET at GFL Memorial Gardens