ADULT PROGRAM 2023-2024
SHORT TERM SESSIONS
Our Adult program offers classes for men & women.
Helps to improve coordination, balance, grace, core, confidence, cardio and fun!
ADULT JAZZ with Cassandra Lepore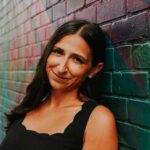 UPCOMING 6 WEEK SESSION * NOVEMBER 13 to DECEMBER 18, 2023
BEGINNER/BASIC Class (NO experience necessary!)  MONDAYS  7:00-7:45pm 
FORMER DANCERS Class (Former jazz dancers!)  MONDAYS  7:45-8:30pm

Cost: $80 + hst
ATTIRE
Any loose, comfortable active wear (tshirts, sweats, leggings, socks, bare feet, jazz shoes, etc.)

If you need, dancewear is available at THE DANCE STORE located next to the studio (CLICK HERE).